APAP: Quality of Life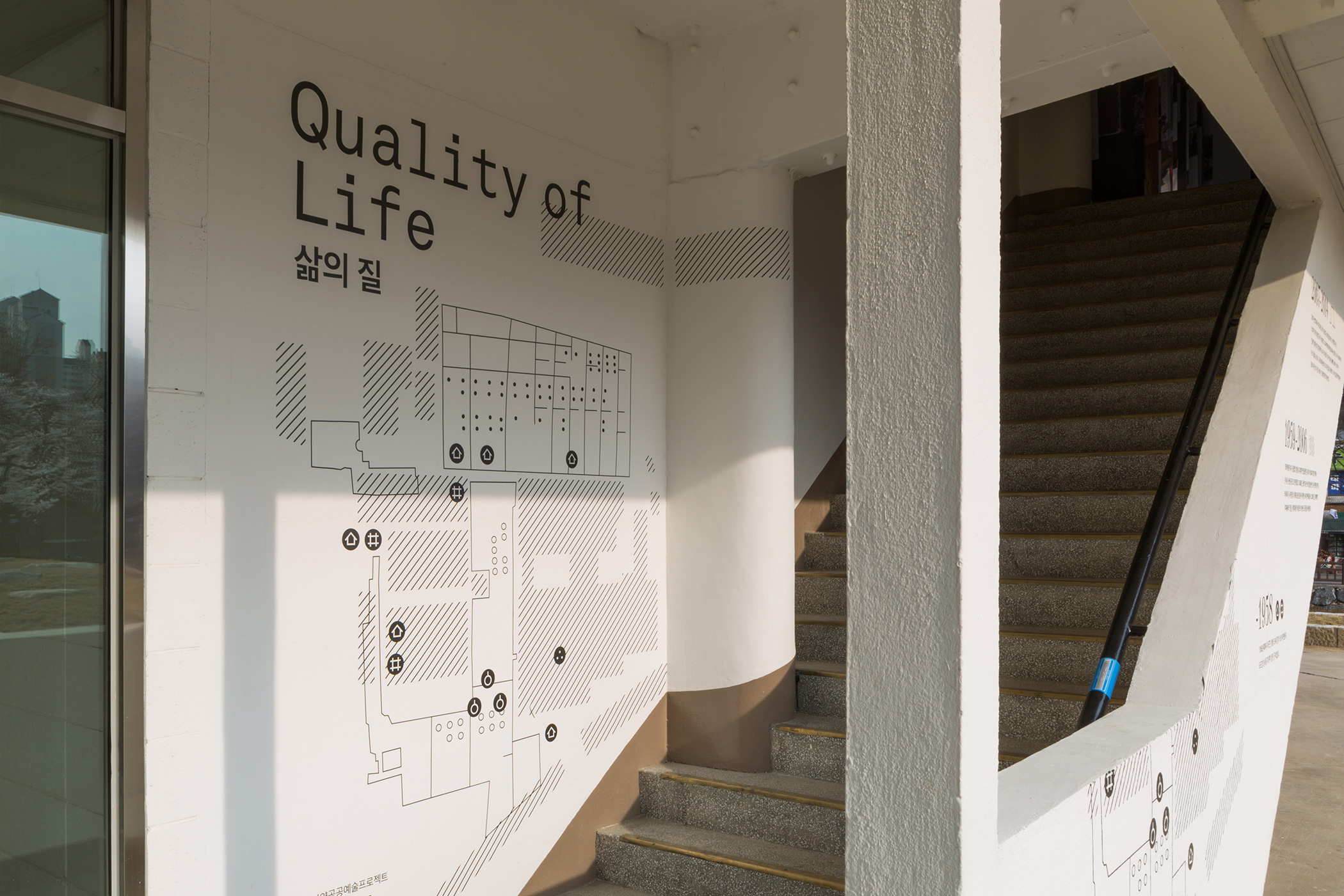 Exhibition design including conceptual development, exhibition identity, spatial design, environmental graphics, production and installation for Quality of Life, a special section in the 4th Anyang Public Art Project (APAP). The Anyang Public Art Project (APAP) is a public art event organized by the city government of Anyang for re-imagining how citizens make sense of their city.

In 2014, the 4th APAP selected the old factory site of Yuyu Pharma as the primary location of the event. The factory, consisting of 19 buildings, was designed and built by Joong-up Kim in 1960, a prominent Korean architect who was a protégé of Le Corbusier. In 2000, as Yuyu Pharma decided to relocate its factory, Anyang City purchased the whole property to turn it into cultural facilities, including the Joong-up Kim Architecture Museum. During the renovation process, ancient artifacts such as foundation stones were discovered underneath many of the buildings, which dated back to a thousand years ago. It later turned out that the place had been Anyang Temple site during the Goryeo dynasty (918-1392).

The controversy grew over whether the modern architectural heritage should be preserved within the ancient cultural site. After several years of debate, 6 of the 19 buildings were decided to demolish for the coexistence. Quality of Life carefully traces the process of how this physically and historically entangled place had shifted throughout history from a religious property to personal, corporate, and government property to transform into a public space eventually. It also documents the adjustment process of conflicting interests by interviewing the city officials, scholars, local residents, and construction workers who were involved in the actual debate. The exhibition title, Quality of Life, was borrowed from the company slogan of Yuyu Pharma, which had been painted on the original factory tower.



Image Courtesy: The 4th Anyang Public Art Project (APAP)
Curated by Sungmin Lee
Video documentation by Jiah Lee
Photography by Cheolki Hong
Material collected by Anyang Park Library
Spatial design in collaboration with Dere Keum